May 1 at 2:25 AM · (1/2) Meet ITAC Collaborative's next artist spotlight in the #FacesOfTeachingArtistryseries, Jeffrey Tan! Jeffrey is a contemporary theatre artist based in Singapore. Read all about his amazing work below! Don't forget to identify, share, and respond with #IDoThatWork to spread the word about our practice of #TeachingArtistry!

1). What life events shaped the teaching artist you are today?

I grew up with different opportunities to experiment, produce and curate different genres of performances as a volunteer with ACT 3 Workshop Theatre. Witnessing how theatre has been empowering for the participants to gain confidence and collaborate/improvise with others, I now strive for organic training rather than any formal, rigid training structure. When my mother passed away suddenly in 2014, I was reminded about the fragility of life and how we need to make the art making process more accessible for more people to enjoy and appreciate.

2). What inspires you to do the work that you do?

The richness of lived experiences inspires me to be constantly curious. When given opportunities and listen deeply, we will discover more about others and ourselves. What I learnt from the COVID-19 pandemic is that we must not be afraid to stop and take time to think deeply, reflect, revisit what worked or what didn't work, and think of alternative ways of art making.
3). What specific aspects of your work are you most proud of?
I am most proud of my ability to connect different people together through the arts. Whether it is children who are learning about the world, youths who are struggling to find their place, adults who are seeking to refine their voice, or seniors who are re-discovering the joys of play, I am happy that I can be of service to connect and collaboratively create meaning for our times together. My adaptability makes it fun for others and myself to suit the arts for different contexts. The theatre projects or drama workshops bring forth untold stories and opportunities for self-discovery about the issues of our society.
4). What would you like to change about your industry?
I would like more artists and administrators to be more open-minded and think of more than just themselves. Collaboration brings more work for everyone. The second thing I would like to change is better communication and more peer support. Too many times, we have clashing events around the same periods for similar audiences in a very small market. Finally, I hope to see more Teaching Artists sharing so that we can improve as an industry.
5). What is the most significant thing you have learned from the people you have taught?
The three lessons I have learnt from people I have taught are first, never stop being curious to learn. Many of my students have risen to high places and have given me opportunities to continue doing what I love – to teach, to direct and to produce! Secondly, to listen and respond timely to situations and people. And third, be grateful and humble.
6). What is one takeaway you hope people garner from your work as a teaching artist?
I hope people will always be grateful for opportunities, and stay open as a person to receive whatever possibilities the situation offers.
Check out our page next week for another artist spotlight post. Share and respond using #IDoThatWork to spread the word about our practice! #TeachingArtist#ParticipatoryArts#ITACcollab#ITACfam See Less
https://culture360.asef.org/magazine/creating-online-collaborations-same-same-experience/
MAGAZINE > Creating Online Collaborations – the SAME-SAME experience
BY JEFFREY TAN03 FEB 2021
Creating Online Collaborations – the SAME-SAME experience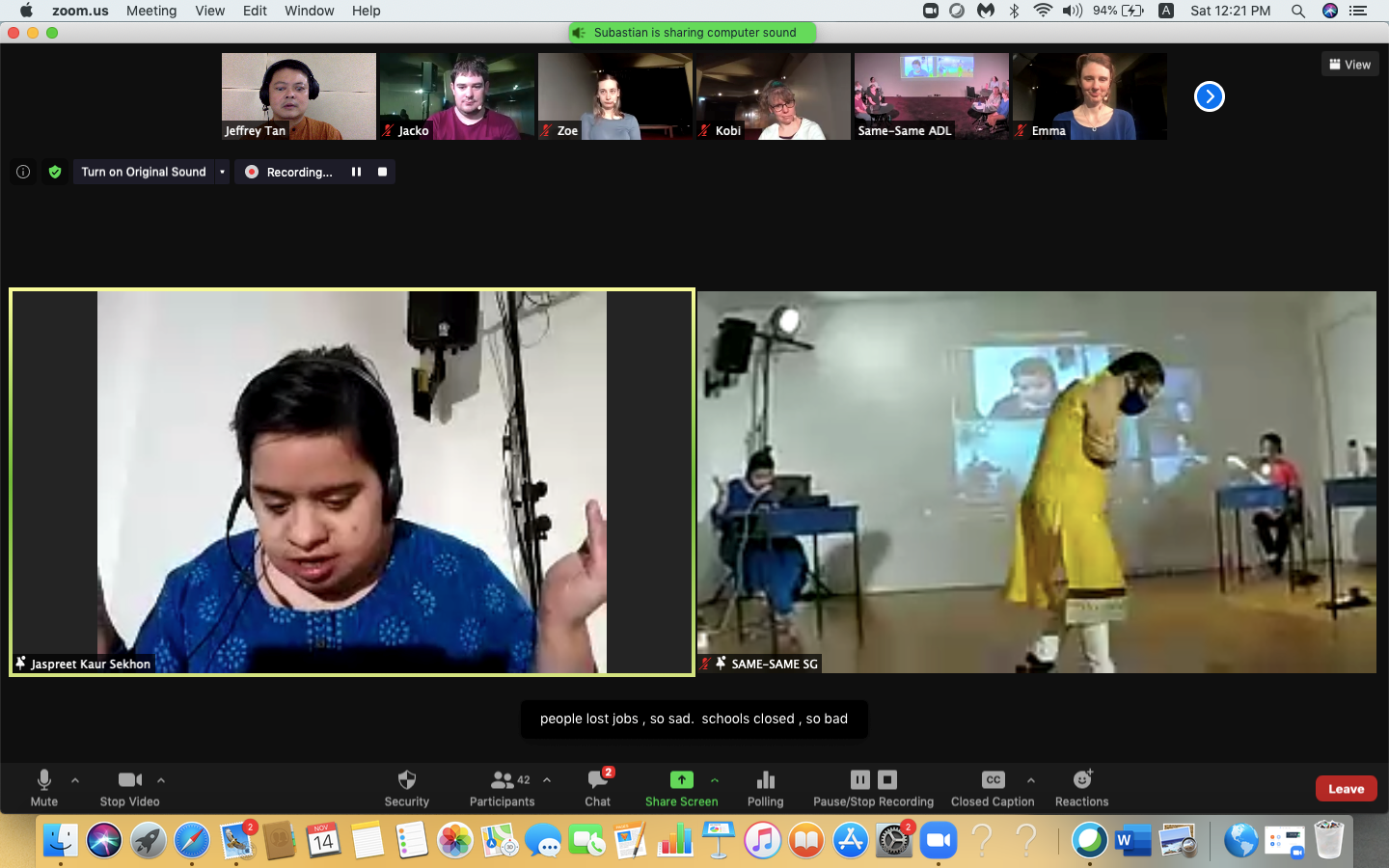 How are the arts adapting to the #NewNormal"? Well over 11 months into the global pandemic, this series presents experiences and stories of #resilience, #adaptation, and success from the arts sector to the Covid-19 pandemic, with particular focus on arts & disabilities, artists residencies and arts funding.
In this article, creative producer and theatre director Jeffrey Tan shares the experience of SAME-SAME, an online inclusive collaboration between differently abled artists from Singapore and Australia developed in time of Covid-19.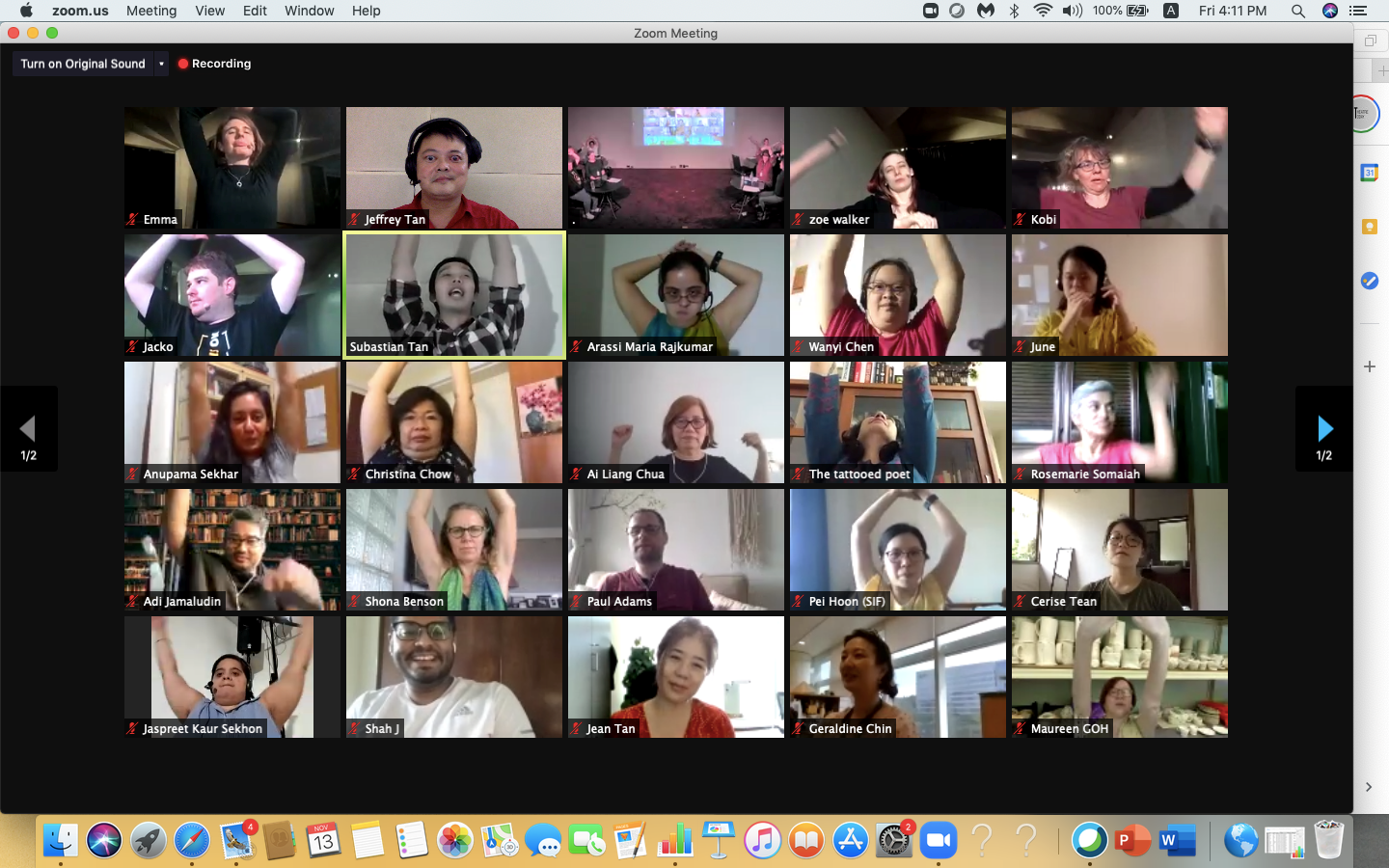 A new beginning
Like everybody else in the world, when the COVID19 (Coronavirus Disease 2019) pandemic broke in Singapore in January 2020, all live arts events stopped. Almost overnight, artists have to learn a new online language to continue to create artwork. Beyond the showing of past performances online, how can we capture the intimacy of live performance online? What are the software and hardware considerations for creating online collaborations?
SAME-SAME?
SAME-SAME, an online, inclusive collaboration between No Strings Attached Theatre of Disability (No Strings), Adelaide Australia and Diverse Abilities Dance Collective (DADC) of Maya Dance Theatre, Singapore was created by The Singapore International Foundation, Arts For Good project. The Creative Development was a one-hour LIVE experience where the audience were invited to turn on their cameras before the show and interacted with the hosts Jeffrey Tan and Emma Beech. The audience was also invited to take part in the warm-up with Choreographer, Subastian Tan. The show began with a series of interviews with the seven different bodied performers, three from Australia and four from Singapore. Through the sharing of their names, families and lives, the audience got a glimpse of the performers and their dreams, fears and how they were coping with COVID19 in both Australia and Singapore. Then the performers presented a series of COVID poems and dances showcasing their individual responses to the situation. The show ended with a collective poem about their wishes when COVID ends.
Bakchormeeboy (2020) shared, "SAME-SAME is essentially a heart-warming experiment of a production, enabling these performers to present their skills to a live audience, and that they too, are capable of producing art from a unique perspective."

Samela Harris (2020) ended her review of the show with "This is a brave and beautiful use of the tools of the moment with a very positive and beautiful outcome. Three cheers."
An organic approach
When working with new partners, I find that having an open mind and being professional, staying on tasks is crucial. But more importantly, we need to be ever ready to adapt! For SAME-SAME, we established regular meetings, and consistent rehearsals and had frequent open discussions about how we wanted to work. Both No Strings and DADC were clear that we did not want to end gain the process by rushing to create an online performance at the expense of getting to know each other. We established an organic approach to establishing a genuine friendship. Phase One started in mid-August 2020, with an overall planning meeting on how the project was going to be managed and run. Then we met the seven performers once a week online to gather their inputs on making friends online, getting to know each other, how they were coping with COVID19 and how we might collaborate online. After many deep listening rehearsals and not being afraid to take time for each performer to share their thoughts, fears and dreams, we started Phase Two of creating content with twice a week online rehearsal. In September and October. Soon creative ideas emerged, and the performers took ownership of the show by going beyond their usual comfort zone of either acting for our Australian performers and dancing for our Singapore performers.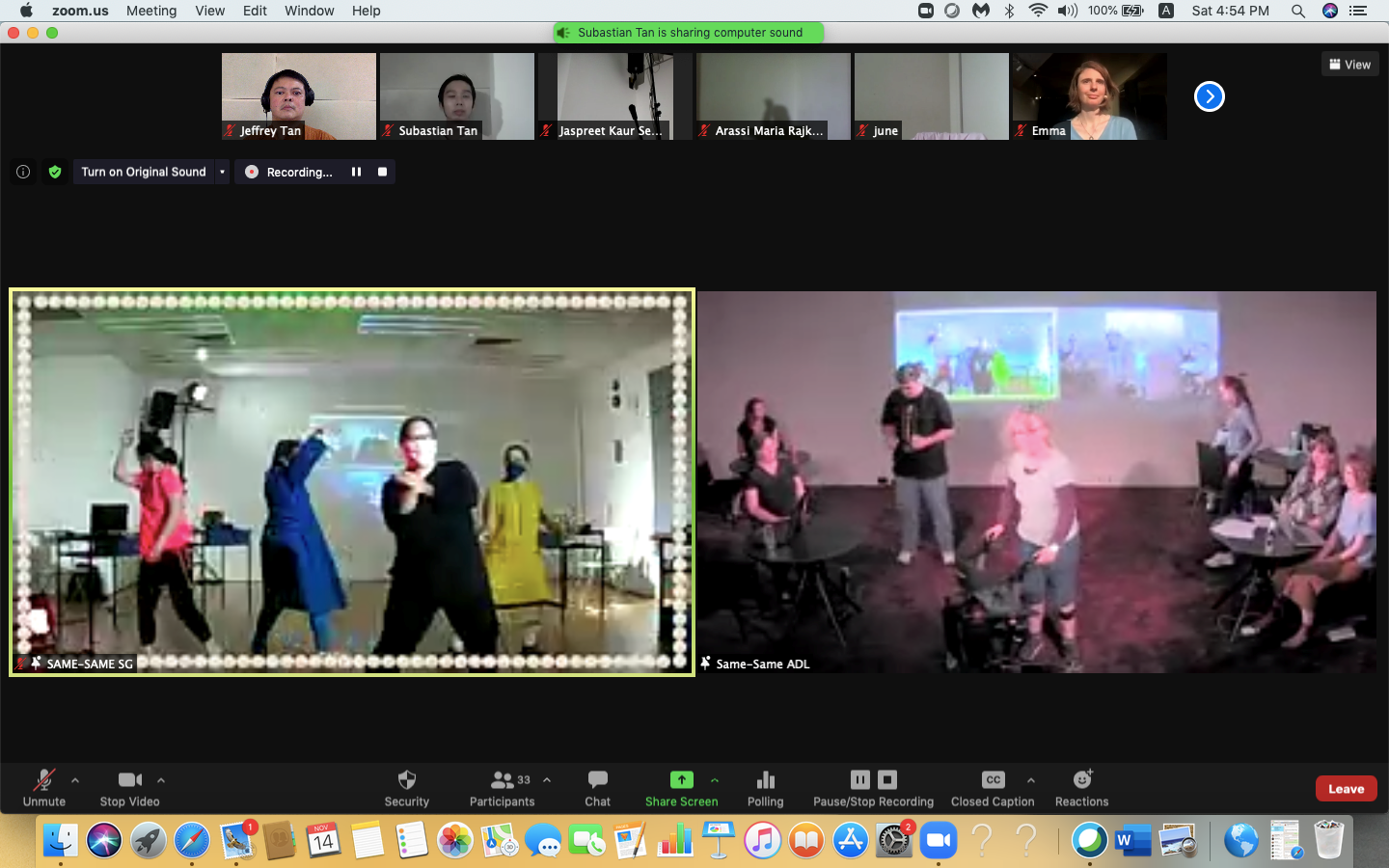 The creative team was made up of Emma Beech and myself as co-directors, Subastian Tan, choreographer and Michaela Cantwell. Emma's Assistant decided that we will let the performers blur their roles to try a little of everything. Removing the labels and expectations on each performer and reminding everyone that we are all human beings with feelings and thoughts.
Like how COVID 19 had forced us to rethink and come up with creative innovations, we decided to collectively devise the final performance and see what themes might surface that are crucial and essential to our different bodied performers. We learnt the importance of not imposing but creating a safe atmosphere for all to explore whatever they wanted to explore without being judged. What does creating online collaboration mean?
Open Structure
Instead of a traditional script with scripted lines, we just kept the titles of each section and gave the performers space to improvise within the structure of the show. The four online shows turned out to be slightly different depending on the reaction of the audience and how the performers were feeling in the moments. We discovered that other than content, there are some software things we need to put in place for successful online collaborations.
Software checklist
S – Be sure to have specific support for each different abled bodied performer. Find out what do they need? What do we need to put in place so each performer can feel safe, comfortable to explore and give their best?
A – Always keep an open mind. Listen to teach to each other deeply. Be ready to adapt.
M – Manage the objectives of what you set out to explore or achieve
E – Establish trust and encourage risk taking.
When working online, you also need to have the following hardware to support you.
Hardware checklist
S – Secure and stable WIFI. Can your online friends see and hear you?
A –Are you in a conducive area to connect with your online friends? Quiet enough for you to hear and not easily distracted?
M – Do you have all the materials and equipment you need for the session? Chargers are extremely important for laptops and mobiles!
E – Extensions are important if you need to move the laptops or mobile devices.
Finally, creating online collaborations requires a lot of patience with oneself and others. One must not be afraid of silence online. Failure only means you get clearer with what you want or are working towards. Stay open minded and collaborations work best when there are constant discussions to evolve and improve what we have discovered. Relevance and genuine meaning will emerge.
As Ms. Layana Salim an audience shares, "SAME-SAME, It's a lovely show to get to know some friends in both Singapore and Australia, how they've kept up with their lives during Covid and how everyone's experience is so relatable so you know you're not alone out there."
Jeffrey Tan is a theatre maker and creative producer based in Singapore.
COUNTRIES
THEMES
DISCIPLINES
---
Latest Review of INTO THE BLUE FOREST
https://bakchormeeboy.com/2018/05/27/100-and-100-more-festival-into-the-blue-forest-review/
100 and 100 More Festival: Into The Blue Forest (Review)
Understanding Challenges of Terrorism through Theatre
Upon finding out that she would be involved in a play about terrorism, Ms Ulfahzatul Tysha Sher Zaman was worried that the performance would upset some audiences.
"I was quite worried the script was possibly sensitive material for certain groups of audiences. This is because the play suggests a relation between terrorism with one race or one religion," said the Theatre Today actor, aged 24 years old.
"However in the play, the issue is framed well such that terrorism isn't attributed to a single mistake of an individual but rather a reality of the world today" she added.
Ms Tysha is one of five actors in the play titled Crossroads which is staged at youth convention Comma Con 2016 last Saturday.
Theatre Today was commissioned to create this 40-minutes performance by the organizers of the convention, Association of Muslim Professionals (AMP).
The play is aimed at addressing centre stage a sensitive issue in Singapore society – terrorism – in an entertaining format. Crossroads chronicles the story of five graduates of a polytechnic aspiring to travel overseas in pursuit of furthering their education.
The character played by Ms Tysha has a boyfriend who is kept secret from her other friends. This boyfriend of hers later turns out to be involved in the terrorist organization ISIS.
For Ms Tysha, deconstructing a sensitive and important issue like terrorism enables the audience to understand it from various perspectives.
"Usually we receive information about terrorism through the news or ISIS video releases, which only show one side to the story."
"But through the performance, viewers get to understand the psychology of the characters portrayed. They get to see and understand the circumstances which leads the character to make certain decisions."
"Viewers get an insight to the characters' train of thought as they follow the characters' journey."
"Nevertheless, all of this will only be communicated effectively and successfully if the play is written well and executed well," said Ms Tysha.
-End-